eCom Q4 Summit 2020
Event website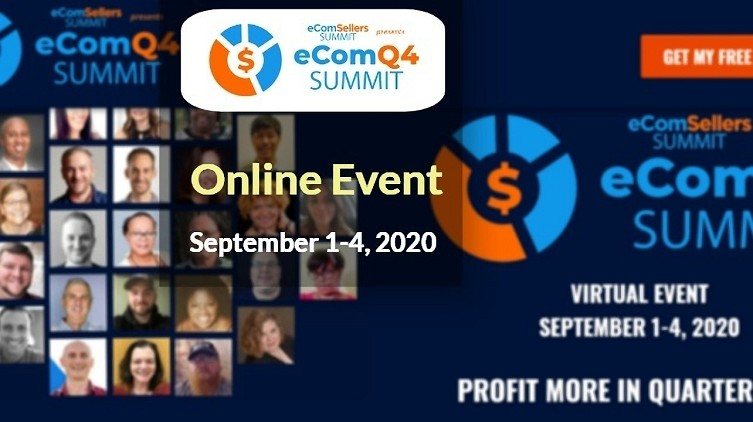 Event

description

Want To Learn How To Generate Massive Profits on Amazon, eBay, Walmart or Shopify This Holiday Season?



This event was created by sellers for sellers like you. The best way to experience a highly profitable quarter fourth is to learn from world-class 6 and 7 figure sellers who are actively running their own successful ecommerce businesses on Amazon, eBay, Shopify and more.




Quarter four is the busiest shopping season of the year! During that time, online shopping and retail shopping hits an all time high. Shoppers are buying products non-stop, . . . so why shouldn't it be or couldn't it be your products? Get registered now and attend the eCom Q4 Summit virtual event. We'll teach you straight forward, easy to understand strategies and techniques to help you get quick wins in your business today this fourth quarter. The current ecommerce stats and potential future growth projections are insane. Here's what they are saying:


Ecommerce had a banner quarter, with an "unprecedented" 73% year-over-year increase in U.S. online revenue for Q2, a more than tenfold surge from 7% for the same period in 2019, according Salesforce.com Inc.
​Online sales surged to holiday-season levels . Despite brick-and-mortar stores reopening in May, consumers still turned to the web in unrivaled numbers during Q2.
​More than $1 in every $5 was spent online in Q2 2020, the highest ecommerce penetration of any quarter or year on record.
​During the height of the COVID-19 pandemic, consumers spent $200.72 billion online with U.S. retailers, up 44.4% from $138.96 billion for the same quarter the prior year, according to retail figures published by the Commerce Department.
​Online grocery sales tripled year over year for Amazon in Q2, propelling the web giant's 43.4% jump in North American revenue.
Get your piece of this ecommerce pie. It's time for YOU to stop sitting on the sidelines and take your business to the next level. GET REGISTERED TODAY so you can learn how to get massive profits in 2020.
Don't Miss Out on the Perfect Amazon Event for You
Get the most up-to-date info on the latest in-person events and virtual summits for Amazon sellers around the world.