Scale2Sale January 2023
Event website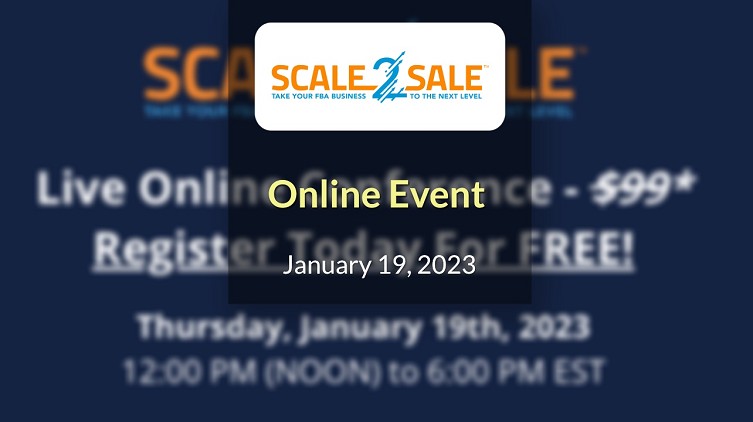 Event

description

Topics & Presentations
Introduction by Sofia Tellez
Opportunities Across The Mexico/USA Border (Sourcing & Selling) - Patricio Tellez from ALGO+
Actions You Can Take Off Amazon To Increase Your Brand Value - Greg Elfrink from Empire Flipper
Strategies For Using Different Types of Business Funding To Increase Cashflow - Mark Gonsalves from AccrueMe™ - Grow Now, Pay Later
Specific Steps To Increase ROI (Panel Discussion w/ LIVE Q&A) - Roundtable discussions with leading eCommerce Experts, Service Providers & Technology
Here's Why You Should Attend...
IT'S FREE FOR A LIMITED TIME- Watch live presentations from Executives, Entrepreneurs, Founders, and Amazon Subject Matter Experts.
​​IT'S VIRTUAL - Attend from the comfort of your own home, office or anywhere with WIFI!
HAVE ALL YOUR QUESTIONS ANSWERED ​live by leading experts from across the Amazon/E-commerce industry.
ACTIONABLE STEPS FOR QUICKLY GROWING YOUR AMAZON PROFITS to maximize your current cashflow and get the best sale price upon exit.
​EXACT PROCESS & KEY DEAL TERMS to know BEFORE you look to sell your E-Commerce business.
Don't Miss Out on the Perfect Amazon Event for You
Get the most up-to-date info on the latest in-person events and virtual summits for Amazon sellers around the world.