Miami, Florida, United States
Amazon POWWOW Miami 2021
Event website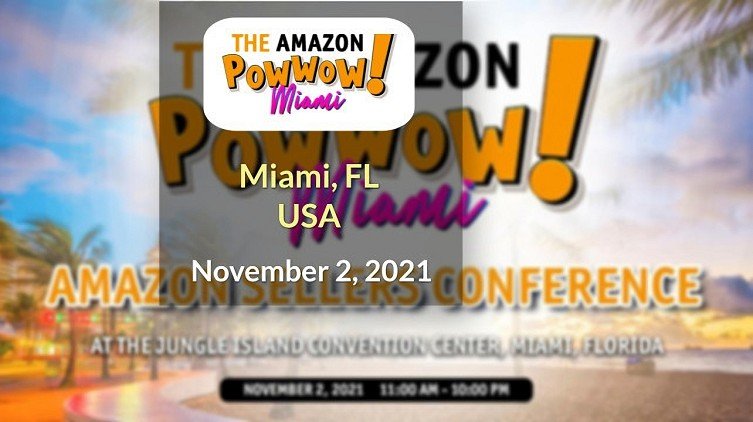 Event

description

Hey Amazon & eCommerce Sellers,



Amazon PowWow Miami is here!


We are excited to announce the second event by the Amazon PowWow Events Group.

We are looking forward to an action-packed day on November 2nd, where sellers and vendors from around the globe will meet in-person to network, exhibit, and hear from leading experts in the Amazon and eCommerce space.



EVENT SCHEDULE:

The event will commence at 11 a.m. with an exciting opening ceremony by the event organizers, Mac Schlesinger, Yehuda Susskind, and Joel Wolh.

The Tradeshow floor will be open all day from 11 a.m. -7 p.m. in the main ballroom. There will be entertainment, a variety of food options, and hot & cold beverages throughout the day. Feel free to network, and take a chill on the beautiful gallery overlooking the scenic Miami cruise ship port.



Speeches: 11:00 - 6:00 pm




Plus, we will have a variety of informative and entertaining panels led by some of these fabulous speakers throughout the day.

We have reserved a beautiful state-of-the-art conference room adjoining the tradeshow floor with room to comfortably seat 500+ guests. We will be introducing a stellar lineup of top-notch amazon speakers from around the world. Stay tuned for more info:



VIP After-Party: 7:00 - 10 pm


In our quickly developing powwow tradition, we will be hosting an exclusive after-party for our VIP ticket holders, get ready to network and party with top Amazon sellers, vendors, sponsors, organizers, and speakers.

Our new jersey after-party was a memorable way to top off a phenomenal event and we are only going to 10x'it this time. Stay tuned for the juicy details

The VIP Party will be held outdoors at the green tropical terrace adjacent to the conference hall and will feature a full-fledged dinner party, along with Cigar Rolling, Hookah Lounge, Wine tasting, Beer Bar, with a live DJ, and much more to be announced. This will be a great opportunity for fantastic conversation in a fun and chilled setting.

Location
Jungle Island 1111 Parrot Jungle Trail Miami, FL 33132 United States
Miami, Florida, US
Open in google map
Don't Miss Out on the Perfect Amazon Event for You
Get the most up-to-date info on the latest in-person events and virtual summits for Amazon sellers around the world.