Austin, TX, United States
Billion Dollar Seller Summit 2019 November
Event website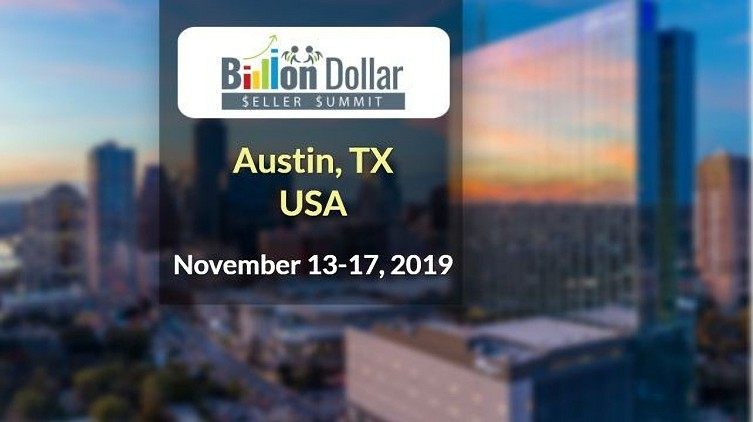 Event

description

Watch this video to get the discount for this event of high-roller Amazon sellers.



The Premier Event for Serious 7 & 8 Figure Amazon Sellers - NOT for Newbies!




You are invited to join Kevin King and 12 hand-selected expert Amazon tacticians from all over the world in Austin, Texas this November 13-17 at the Fairmont Hotel. The 5-star hotel is located at 101 Red River, Austin TX 78701.




Learn from and network with 12 hand-chosen experts from around the world. All tactical - no fluff.




SPEAKERS



Kevin King - 7 figure seller, speaker and lead mentor in Helium 10 Elite
Bradley Sutton - Success Manager at Helium 10, his training videos and live workshops are viewed monthly by over 100,000 Amazon sellers of all levels
Tim Jordan - 7-figure seller and sourcing/logistics super expert
Tomer Rabinovich - Israeli Jedi master at innovative product and keyword research techniques
Ivan Ong - Singaporean super affiliate now absolutely crushing it on Amazon
Super Kevin - One of the top 2 black technology minds in China who makes millions doing white hat too
Paul Baron - One of foremost experts on using chatbots to drive massive results on Amazon
Joe Valley - Serial entrepreneur who has helped sell millions of dollars worth of Amazon businesses
Kian Golzari - One of the world's leading product development and sourcing experts (2,500+ products)
Michael Hartman - Well-respected marketing & finance strategist, PPC and Amazon Scaling Expert
Howard Thai - Founder & CEO of United Integral Inc aka Skque has a Sellers Lifetime Rank of top 100 on Amazon.com
Exclusive, never-before-seen strategies for explosive Amazon sales growth, including but not limited to …

1) Using brand analytics on a deep level to find the top 20 keywords you should focus on during launch

2) Successful, fool proof blackhat and whitehat methods to get quality reviews fast

3) Tactics Chinese sellers use to destroy the competition and rank to the top fast

4) Alternative sourcing methods and resources that could save you hundreds of thousands of dollars

5) How to use your Amazon skills to get exclusives with some of the top brands and celebrities in the world

6) Little known mistakes sellers make selling their business that cost them 5, 6 or 7 figures of cash in hand

7) How to create natural, organic looking calendar launch flows using Manychat to rank to top of page one

8) Pure gold ninja hack contest that will blow your mind among all attendees with cash prizes

9) 45 super cool quick tactics that could grow, protect, scale and differentiate your business

10) How to use SEO tactics and outside traffic to double or triple your sales within a couple months

11) Formula showing how to increase ACOS to get massive returns on Organic sales that will surprise you

12) Using a predictive shopping pixel (NOT Facebook's or Google's) to get $100K in sales on an $8K spend
And that is just the beginning!

Tickets are $4,997 - all business partners are the same price. Optional VIP upgrades are $1497. Spouses or significant others can only attend any of the events if a separate spouse ticket is purchased.

Don't Miss Out on the Perfect Amazon Event for You
Get the most up-to-date info on the latest in-person events and virtual summits for Amazon sellers around the world.