European Seller Conference 2024
Event website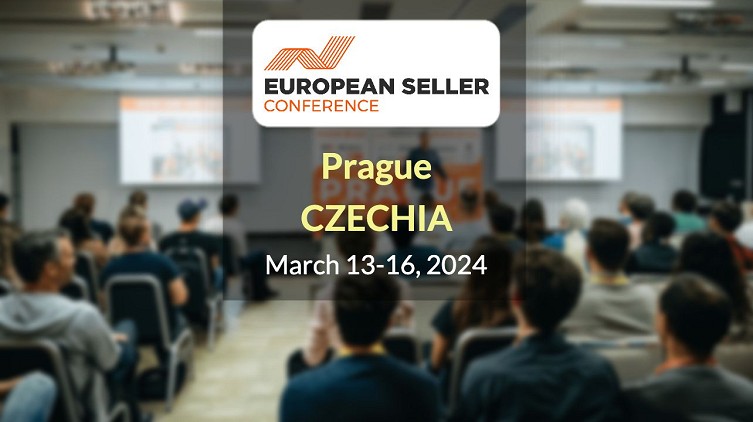 FEATURED
Get 50€ off your ticket
Use a special coupon code AMZSUMMITS to save 50€ when getting your ticket to this event. Purchase your tickets here
Event

description

Meet 200+ Amazon sellers and experts on March 13-16, 2024 in Prague, Czech Republic at the European Seller Conference!




European Seller Conference is the most awaited annual Amazon sellers event in Europe that provides sellers from 40 countries with actionable strategies and networking opportunities with like-minded sellers and experts.




Learn alongside experienced sellers




The event is tailored for sellers who have been selling on Amazon for over a year and have crossed $1,000,000 mark in yearly revenue. We know you are not looking for beginner tips - you are seeking advanced strategies and insider insights.




At our event, advanced strategies are presented by speakers who are thoughtfully chosen to help you scale your already successful business to new heights.




Among the first confirmed speakers: Tim Jordan, Chris Rawlings, Ritu Java, Christian Otto Kelm, Pradeep Kumar Sacitharan, Mansour Norouzi, Matteo Lombardi. More speakers will be confirmed in the upcoming months.




Network with like-minded people and have a great time together




European Seller Conference provides high-level networking opportunities from VIP networking day, which includes activities in Prague as well as mastermind sessions with VIP experts, to networking dinner and open bar for all event attendees. Once the conference is officially finished, attendees will discover Prague's nightlife together to celebrate past days spent together!




Event schedule:



March 13 - VIP day with selected experts
March 14-15 - Conference Days
March 16 - Workshop with a selected expert
Whether you decide to go for the entire European Seller Conference experience or choose to join for the 2 conference days - you will get the expert advice you are seeking and new connections that will impact your life and business in a positive way!
European Seller Conference is a must-attend event for every serious Amazon seller. Don't miss out on this incredible opportunity to take your business to the next level!
Don't Miss Out on the Perfect Amazon Event for You
Get the most up-to-date info on the latest in-person events and virtual summits for Amazon sellers around the world.