Seller Fest Baltics 2023
Event website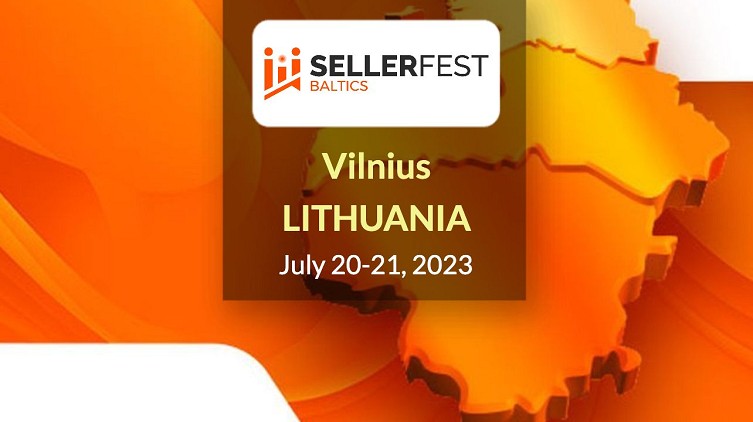 Event

description

July 20-21 - CONFERENCE DAYS

Seller Fest Baltics is designed to cover a wide range of topics and provide valuable knowledge for Amazon sellers selling in any marketplace.




On the first day (July 20th), we are going to have experts from all 3 Baltic countries – Lithuania, Latvia, and Estonia.




On the second day (July 21st), we are going to welcome our international experts from all over Europe and the US to share their knowledge with attendees.




Seller Fest Baltics - what you will be learning
Go beyond basic A/B testing to make crucial changes to products and packaging, increasing traffic and conversion rate.
Discover a low-risk, low-budget method for fast product releases and testing on Amazon.
Gain awareness of the reasons behind Amazon suspensions and learn strategies for resolving issues and avoiding future suspensions.
Leverage AI to accelerate brand growth on Amazon through automation, listing optimization, advertising campaigns, and customer engagement.
Learn strategies and ideas for creating unique designs for product visuals on Amazon.
Discover top ways to increase reviews.
Learn how to utilize Sponsored Brand ads to boost sales and visibility.
Learn effective techniques for enhancing Amazon product visuals.
Understand how to optimize Sponsored Brand ads for maximum visibility and conversions.
Gain strategies for increasing sales velocity while maintaining healthy profit margins.
WHY LITHUANIA?
The Amazon seller community has been rapidly growing in Lithuania as well as its surrounding countries – Latvia, Poland and Estonia. That's why we thought it was the perfect time to host our next Seller Fest event in the charming city of Vilnius, Lithuania. We'll be taking advantage of this growth to attract sellers and experts from all over Europe and beyond to provide you with valuable insights into how you can grow and succeed with your Amazon business.
Why should you attend SELLER FEST BALTICS?
Build your network – we're expecting over 100 like-minded Amazon sellers to attend.
Get personal advice from some of the industry's biggest Amazon experts. Even implementing a few tips could make a big difference to your business.
Amazon is changing fast. Keep up to date with the latest strategies for selling on Amazon in 2023.
Location
Crowne Plaza Hotel Vilnius, 03100 Vilnius, Lithuania
Vilnius, LT
Open in google map
Don't Miss Out on the Perfect Amazon Event for You
Get the most up-to-date info on the latest in-person events and virtual summits for Amazon sellers around the world.