Seller Fest Online 2022 March
Event website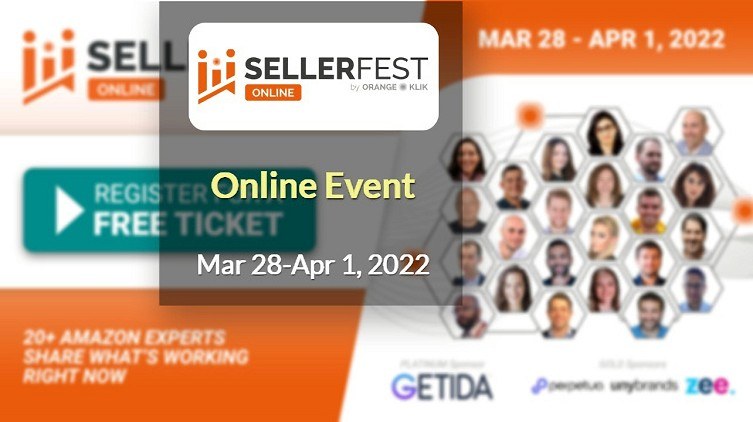 Event

description

Click here to register for this FREE event



Seller Fest Online 2022

is a 5-day virtual summit for intermediate and advanced level sellers, featuring talks from 20+ Amazon experts on a broad range of FBA subjects.

During the summit, you'll ace the essential parts of running a successful business on Amazon.



Module 1: Amazon marketing
If you want sales, you have to set up an effective marketing strategy, especially during product launches. There are numerous ways (with varying efficiency) to promote your product on and off Amazon.

You will learn the best techniques to drive external traffic to your product listing and effectively use other free marketing opportunities available on Amazon.



Module 2: Amazon PPC
In the last few years, Amazon's pay-per-click sponsored ad network has been the most popular way for FBA sellers to drive sales. Our experts will show you how to lower your ACoS, amplify your sales, and be ahead of your competitors.



Module 3: Listing optimization
What's the most likely way you're handing out sales to other brands? By not having your listing as persuasive and informative as it could be. That's why listing optimization is another one of our priority topics. You'll learn to precisely target your audience using high-quality images, professional copywriting, informative and catchy infographics, and A+ content.



Module 4: A+ content
This is one of the most important yet overlooked parts of a great Amazon listing. Our experts will teach you how to make A+ content steer your customers to purchase like a magnet. By adding enhanced images and text placements, you can tell your unique brand story— it will build trust and impact the customer's decision to buy from you.



Module 5: Amazon SEO
Amazon is a search engine just like Google. If you never look farther than page 1, you're like 99% of your potential buyers — which means that if your product fails to rank on the first page of Amazon search, no one will find it, and you will lose a large number of sales. If you want your business to thrive — master the skill.

That's why we have Amazon SEO experts who will tell you how sales velocity impacts your ranking and teach you everything you need to know to outrank products that are currently on top of the search page, rank for the best keywords, and more…



Module 6: Product sourcing
You might have noticed that Amazon FBA is becoming threateningly competitive. Finding, developing, and sourcing products is more difficult each month. That's why we will teach you how to identify promising niches and find in-demand products that solve problems. You'll finish the online summit with all the tools you need to build a winning product and make the highest possible margins.


Don't Miss Out on the Perfect Amazon Event for You
Get the most up-to-date info on the latest in-person events and virtual summits for Amazon sellers around the world.