Seller Fest Lithuania 2019
Event website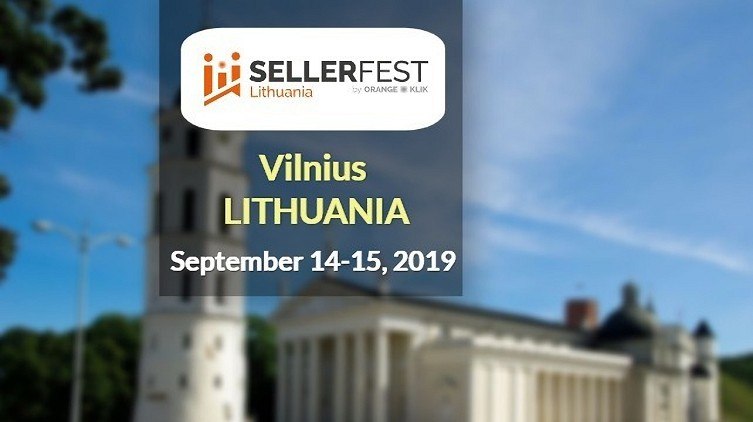 Event

description
What is SELLER FEST Lithuania?

Seller Fest Lithuania is a special two-day event for Amazon sellers being held on September 14-15th, 2019 in Vilnius, the historic capital city of Lithuania.

Throughout the day, we'll host sessions with Amazon industry experts from all over Europe, including Serbia, Latvia, Germany and the UK.

Topics of their talks will include, Amazon advertising (PPC), listing localisation and translation into other languages, EU Value Added Tax (VAT), the optimisation of product images and much more.
Who is SELLER FEST Lithuania for?

Seller Fest Lithuania is designed to cover a wide range of topics and provide valuable knowledge for
Amazon sellers of any marketplace location.

We're expecting most attendees to come from European countries, particularly those near Lithuania such as Latvia, Poland, Belarus and Estonia. However, all the speakers will be internationally based and any Amazon seller is welcome to attend event with
presentation in English
.

Why should you attend?
Build your network – we're expecting over 100 like-minded Amazon sellers to attend.
Get personal advice from some of the industry's biggest Amazon experts. Even implementing a few tips could make a big difference to your business.
Amazon is changing fast. Keep up to date with the latest strategies for selling on Amazon in 2019.

Join Seller Fest Lithuania on Septemeber 14-15th, 2019

Location
ARKANGELO conference and arts center, Maironio g. 11, Vilnius 01125, Lithuania
Vilnius, LT
Open in google map
Don't Miss Out on the Perfect Amazon Event for You
Get the most up-to-date info on the latest in-person events and virtual summits for Amazon sellers around the world.